Readers Tales
---
Date: Wednesday 19th July 2006
Participants: Two parties of Explorer Scouts and Leaders
Time taken: 11 hours and 50 minutes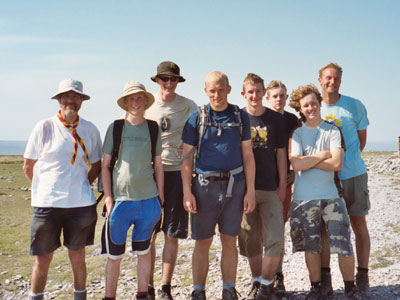 Walk experience:
A fantastic experience, wonderful scenery, great sense of achievement, disappointment for those who dropped out, particularly Cathie, my daughter, who aggravated a previous injury to her knee coming off Whernside.
Incredible weather! The hottest day since records began!!
No problems encountered on the walk, see below. However I am still extremely angry about the reception we received at the Pen-y-Ghent café when we checked in at the end. As we had a Leader who was not walking he took our details to there when they opened. When we finished we were told that because we had not complied with "The Rules", i.e. we should have posted the details through the letter box not handed them in later, we did not qualify for the official recognition that we had completed the challenge. Can you imagine having to tell the young men, aged 16 - 18, that because we had not complied precisely with the rules that this was the case after 12 hours walking in tropical temperatures? I realise that the café generously provides a free and extremely valuable safety back-up service for walkers and as a Scout walking Leader for many years I know how useful this service can be, particularly in poor weather, but can someone please explain to me why the way in which the café receives the party details makes any difference! As a pundit once said "Rules are made to be followed by fools and for the guidance of wise men".
Tips for others etc - We had a Leader in a car who met us at check points to provide extra water and to pick those unable to continue - this I think is essential if young people are involved. It allowed them to experience part of the route and the rest of us to continue when members dropped out.
Dave Powell
Stafford
---
Click here for Disclaimer